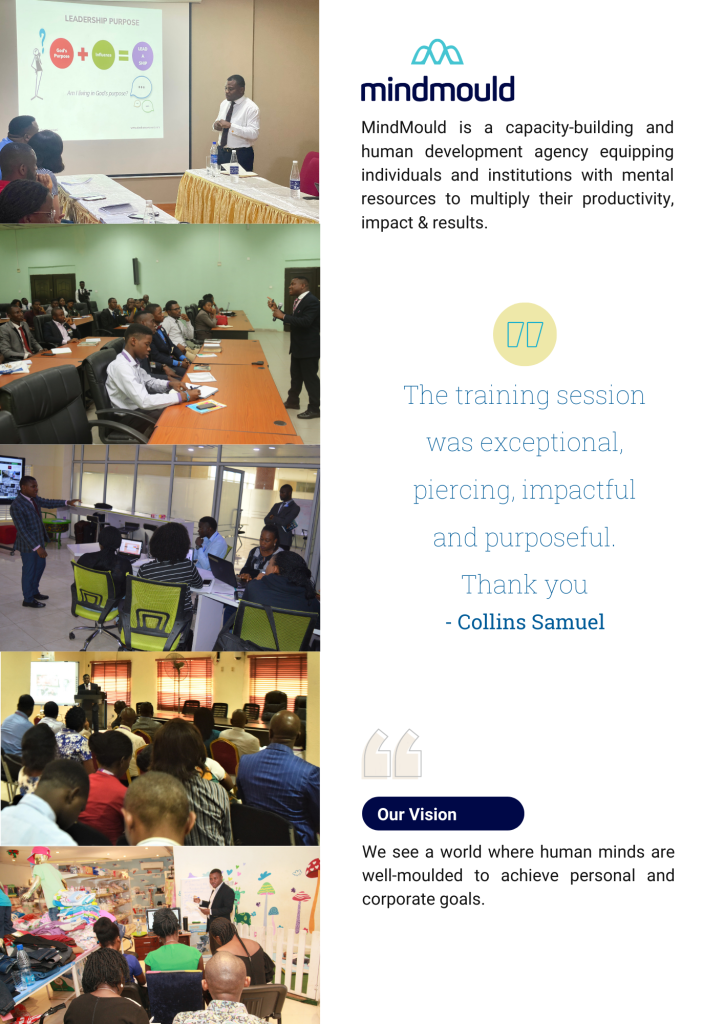 We believe that humans form the greatest resource and capital on the earth, not even mineral resources. Consequently, the mind is integral to the quality of exploration and refinement of this resource. In order to achieve this, the human mind requires moulding to make the best of its endowed abilities and capacity through learning and development.
MindMould provides soft skills training and corporate learning solutions for organisations and businesses in search of upscaling their leadership competencies and workforce effectiveness towards improved impact and business yields. Our learning solutions are designed to help employees lead productive and happy lives, thereby performing work responsibilities more effectively and in turn, achieving and surpassing business goals.
Our previous clients cut across various industries such as retail, education, supply chain, manufacturing, faith-based and community-based organizations, and design consultancies. Our team of trainers are experts in their niche, ready to deliver value to you and your team. How can we support your talent development and people management efforts?
Abraham Owoseni was a facilitator at our 2017 in-house course and he was able to provide relevant experience and information around youth development. Abraham expertise is unwavering and his depth in youth mentoring is incomparable. Olumide Fashina, Managing Consultant/CEO, Agile P3 Limited
You've really got me thinking about being a whole lot clearer and intentional about what I do. I love the presentations where you feel like they were written / delivered just for you. -Sandy Walker, Manager, Blessed Children's Hope Foundation, Australia
Abraham Owoseni is a practical, clear and straight forward trainer. You will always leave sessions with him with easily applied lessons that will surely help you achieve your goals and become a better person. Omoniyi Temitope Mayowa National Coordinator, Threshing House, Ecclesia Outreach